Hotel Near NC State Fair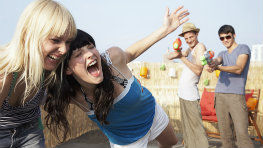 Aloft Raleigh is located just down the road from the NC State Fairgrounds, which hosts the NC State Fair each October, in addition to many events throughout the year.
The annual State Fair, which began in 1850, combines agriculture events with fair favorites including food vendors, rides, and more. Concerts, magic shows, and other live events are also held nightly, featuring well-known performers. You can also watch livestock and horse shows and find out who wins cooking competitions, which has previously featured items like PB&J, Spam, and other treats.
Over the span of 11 days, over a million visitors and locals explore the massive fairgrounds, making this one of Raleigh's largest annual events.
2016 Fair Dates: October 13-23, 2016
Explore the State Fair website for other upcoming events during the rest of the year.